ORIGINAL 2-STORY BRICK GREEK REVIVAL
CATALOGUED & PACKAGED ARCHITECTURAL COMPONENTS
DETAILED "AS BUILT" DRAWINGS
BUILD WHERE YOU WANT
ENHANCE WITH ADDITION & MODERN AMENITIES
HIGH QUALITY HISTORIC MATERIALS
COLONIAL ERA SIGNIFICANCE
Offered For $199,000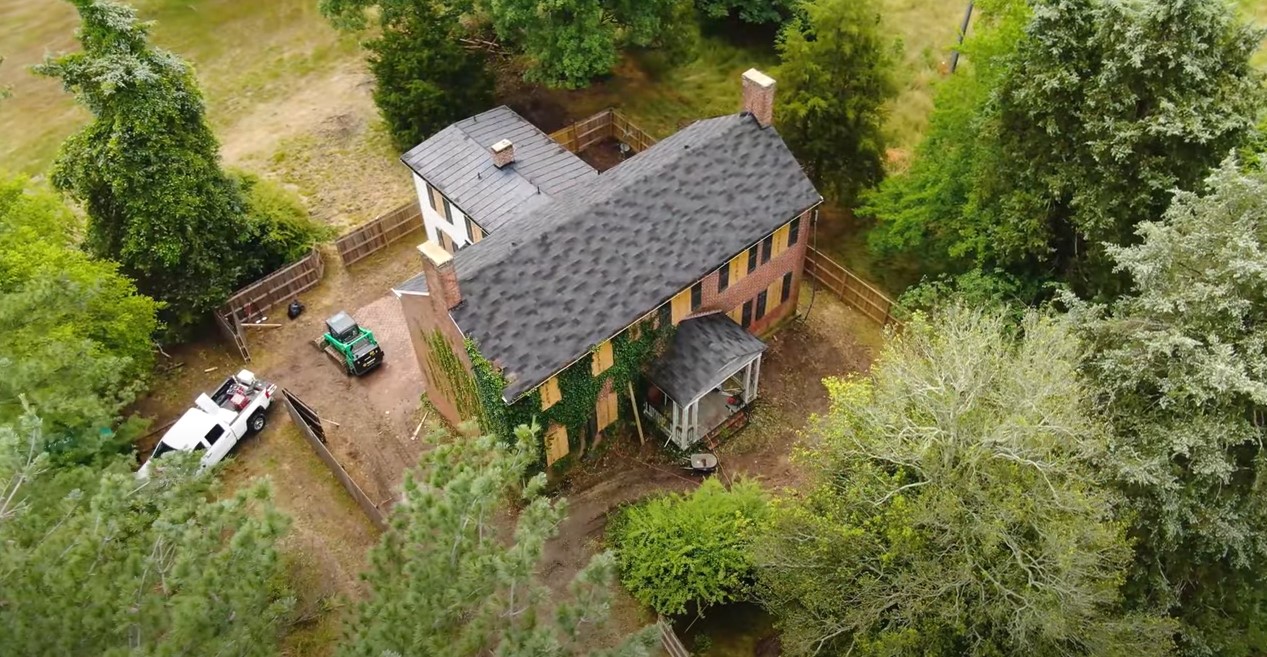 The Back Story

Turkey Run was a classic Virginia farmhouse, built around 1836 by James Hill Spears on a 612-acre farm near the Midlothian Mines in Chesterfield Country. Spears was vitally connected to the coal mines. In operation since 1730, the Midlothian Mines were the first of their kind in North America.
In the second half of the 20th century, Turkey Run became the home of beloved Chesterfield County teacher Virginia Justis. In 2017 the county acquired, neglected, then later threatened to demolish the house.
Public esteem for Ms. Justis helped save the house. Local citizens raised funds and hired preservation contractors to dismantle the house, catalogue its parts, and document its design and layout. Carefully packaged and stored, the original house is now ready for reconstruction. (A two-story wing of relatively modern frame construction was not preserved.)

The two-story house now comprises living and dining room flanking a center hall on the main floor, and two bedrooms and a hall on the second floor. At either end of the entrance hall were double doors. A columned front porch framed the front door.
PROPERTY DETAILS
LIVING ROOM: 18'9" W x 16'10'" L
DINING ROOM: 18'9" W x 16'2" L
BEDROOM #1: 16'10" x 18'9"
BEDROOM #2: 16'2" x 18'9"
ENTRANCE HALL: 9'2"W x 18'9" L
SECOND FLOOR HALL: 8'11"W x 18'9" L


SALE INCLUDES:
Original bricks, mouldings, staircase, doors, windows, flooring, mantels, railings, porch columns and trim.
Recommendations can be made for preservation architects and experienced restoration contractors to reimagine the house in a new setting.
"AS BUILT" DRAWINGS
Reimagine the house to meet your needs with a possible rear addition and/or basement.
Video Clip about Turkey Run: https://www.youtube.com/watch?v=IsPUkXIWOAk&authuser=1
News Coverage: https://www.wtvr.com/heroes-among-us/turkey-run-home-saved
https://www.chesterfieldobserver.com/articles/justis-house-in-dry-docks-nonprofit-makes-moves-to-acquire-historic-homes-materials/
Richmond Magazine Article: "Some Assembly Required" https://richmondmagazine.com/news/turkey-run/?fbclid=IwAR3yeDTkRs6PByEXu6VGERRs-KtW8WGoxV5ISI4lW5a-Tdcyd56ZbF_0r3c&fs=e&s=cl
Contact Jennie Dotts for details about Turkey Run and help in locating a suitable lot for its reconstruction.
Jennie Dotts
Long & Foster Grove Richmond, VA - Realty
5702 Grove Avenue
Richmond, VA 23226